2023 III BFA Women's Baseball Asian Cup
2023年第三屆亞洲盃女子棒球錦標賽
Period: 21 May – 1 June 2023
Venue: Sai Tso Wan Recreation Ground, No. 90, Sin Fat Road, Lam Tin, Kowloon.

Ticketing Guidelines
2023 III BFA Women's Baseball Asian Cup (III WBAC) is organized by the Baseball Federation of Asia (BFA), hosted by The Baseball Association of Hong Kong, China (BAHKC), supported by the World Baseball Softball Confederation (WBSC), subvented by the Culture, Sports and Tourism Bureau (Arts & Sport Development Fund) and the Leisure and Cultural Services Department. Seven teams from Asia, including India, Pakistan, Malaysia, Indonesia, Sri Lanka, Thailand and Hong Kong, will play in the Qualifier Round between 21 May and 23 May 2023. The two winning teams, plus the hosting team Hong Kong will advance to the Final Round starting from 26 May to 1 June 2023, where they will compete with the top five teams: Japan, Chinese Taipei, Philippines, China and Korea, for the four Asia spots of 2023 WBSC Women's Baseball World Cup Group Stages; Group A will be held at Thunder Bay, Canada on 8-13 August 2023 while Group B to be held at Miyoshi City, Japan on 13-19 September 2023.
Click here >
Get a ticket
-
Early-bird offer until 20 May 23:59
III WBAC Qualifier Day Pass: HK$60-90. A day pass will give you access to all three games on either one day between 21 May and 23 May.
III WBAC Qualifier All-day Pass: HK$160-240. All-day Pass will give you access to all nine games played in the Qualifier from 21 May to 23 May.
III WBAC Final Day Pass: HK$90-120. A day pass will give you access to all four games on either one day on 26-28 May or 30 May - 1 Jun.
III WBAC Final All-day Pass: HK$480-650. All-day Pass will give you access to all 22 games played in the Final on 26-28 May and 30 May - 1 Jun.
III WBAC Whole Tournament Pass: HK$640-890. All-day Pass will give you access to all 9+22 games in the Qualifier and the Final.
Opening ceremony will be held on 26 May at 5:00 p.m.
Prize Presentation & Closing Ceremony will be held on 1 June at 5:00 p.m. after finishing the last game.
All spectator stands (Stand) are bleacher seats. Seating is first come, first serve.
Zone A: Next to Home's Team Dugout, 50 seats
Zone B: Next to Visitor's Team Dugout, 50 seats
Zone C: Along First Base Line, 100 seats
Zone D: Outside Right field, 100 seats (free of charge, no booking is required)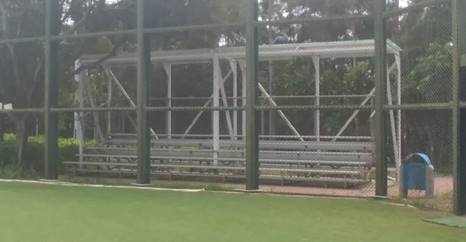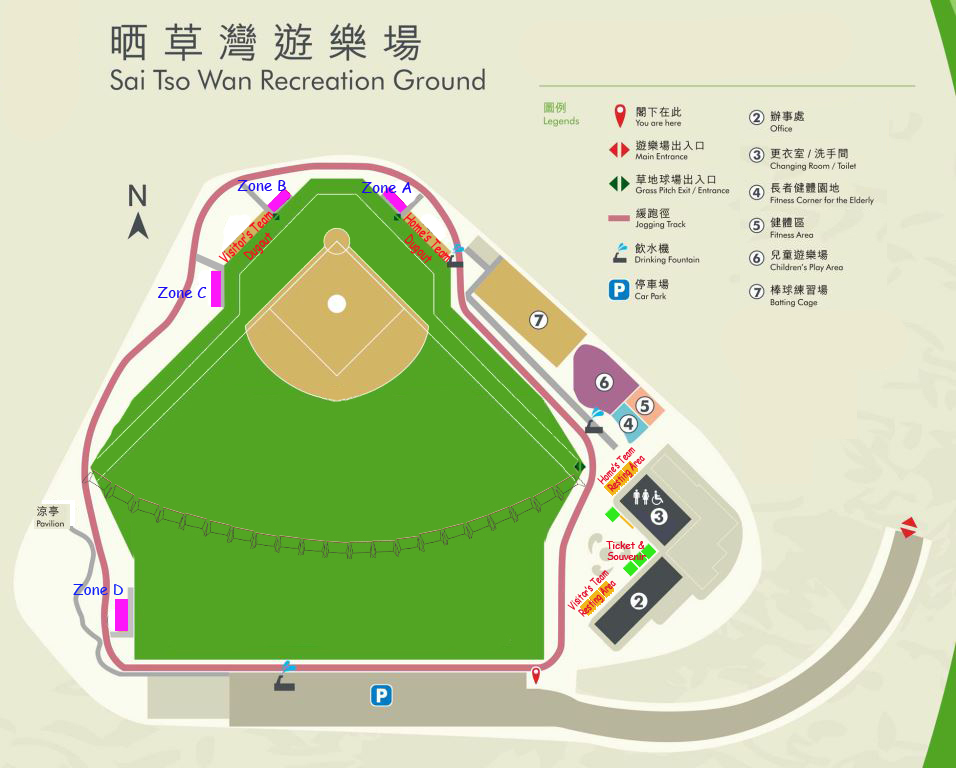 Get Tickets Online
All ticket prices are subject to additional handling fees through BAHKC Online Registration System (BAHKC ORS). Buyer shall sign up as a user to buy tickets on BAHKC ORS. Each buyer is limited to buying two tickets.
Ticket buyers must purchase tickets to the 2023 III BFA Women's Baseball Asian Cup only at
BAHKC Online Registration System
to get the lowest prices possible and to be guaranteed that the ticket is legitimate. No third parties have been authorized to sell tickets on behalf of BAHKC.
Payment Methods
BAHKC ORS accepts Visa, MasterCard, Alipay, PPS
The ticket buyer must present the transaction record on a mobile device or a print copy to collect ticket(s) at the ticketing counter; ticket holder is allowed to enter the specified Zone. Only ticket holders are allowed to enter. The game may be postponed/ changed due to inclement weather/unforeseen conditions, BAHKC has the rights to adjust the game schedule.
Order Processing Fees
Tickets purchased on BAHKC ORS are typically subject to a non-refundable per order processing fee.
Important:
Tickets can only be ordered or held with payment. Orders that do not include the service charge or are inaccurate or incomplete will be delayed.
NOTE:
For your protection, your online ticket orders will be processed through BAHKC's secure server. All information you submit to us, including your credit card number, will be encrypted to ensure complete safety and confidentiality.
A game may be postponed/changed due to inclement weather or unforeseen conditions. BAHKC has the right to adjust the game schedule. Ticket holders will receive an email notification about the revised game schedule. For the cancelled game, the ticket buyer will receive a pro-rata refund. Cancellation and pro-rata refund requests must be made by 5 June 2023 in written to BAHKC at
[email protected]

.
License; Ejection and Cancellation; No Redemption Value
BAHKC reserves the right, without refund of any amount paid, to refuse admission to, or eject, any person whose conduct management deems disorderly, who uses vulgar or abusive language or who fails to comply with BAHKC rules. Breach of terms or rules will terminate your license to attend the event without a refund. A ticket is a revocable license and admission may be refused upon refunding the ticket's face amount. A ticket is not redeemable for cash.
Recording, Transmission and Exhibition
You agree that the event for which you purchase tickets is a public event, that your appearance and actions inside and outside the venue where the event occurs are public in nature, and that you have no expectation of privacy with regard to your actions or conduct at the event. You grant permission to us and the authorized parties to utilize your name, image, likeness, acts, poses, plays, appearance, movements, and statements in any live or recorded audio, video, or photographic display or other transmission, exhibition, publication or reproduction made of, or at, the event (regardless of whether before, during or after play) for any purpose, in any manner, in any medium or context now known or hereafter developed, without further authorization from, or compensation to, you or anyone acting on your behalf.
You Are Subject to Search
You and your belongings may be searched on entry to the event. You consent to such searches and waive any related claims that may arise. If you elect not to consent to such searches, you may be denied entry to the event without a refund or other compensation. Under certain facility rules, certain items may not be brought into the premises, including without limitation, alcohol, drugs, controlled substances, cameras, recording devices, laser pointers, strobe lights, irritants (e.g., artificial noisemakers), bundles and containers.
Unlawful Resale of Tickets; Promotions
Unlawful resale (or attempted resale), counterfeit or copy of tickets is grounds for seizure and cancellation without compensation. You are responsible for complying with all applicable ticket resale laws. In addition, we reserve the right to restrict or deny ticket purchasing privileges to anyone that we determine to be, or has been, in violation of our policies. Because we do not guarantee the authenticity of tickets purchased from any non-authorized third-party reseller (such as brokers or individuals), we recommend that you purchase tickets directly through us, authorized partners or from the venue box office to ensure ticket authenticity. Tickets may not be used for advertising, promotions, contests or sweepstakes unless we give formal written authorization.